Large Commercial Air Balancing & Hydronic Certification


Advanced Air & Hydronic Balancing Certification
Designed to Ensure Integrity, Accuracy, and Repeatability of Test Results
Register for this training now!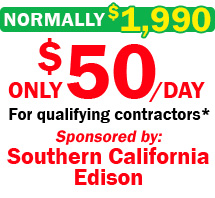 Learn the Principles of Quality Testing, Adjusting, Balancing, and System Diagnostics
This course is NCI's most advanced air and hydronics balancing class. Participants may attend the course for educational purposes only or can choose to achieve certification by participating in and passing eight hours of written and practical examinations (on the final day.)


Experienced commercial balancers seeking advanced air and hydronics training will learn how to diagnose and balance larger and more complex HVAC systems.

NCI has developed more than 60 practical testing and balancing procedures that certified professionals employ in the field. These practical standards ensure systems will be tested and balanced with integrity, accuracy, and most critically, repeatability of the test results.
The Highest Standard in Actual Delivered System Performance Analysis
Written and field exams follow training. Upon successful completion of all coursework and passing the exams, you will receive the NCI Advanced Air & Hydronic Balancing certification.
This is the only certification of its kind.
To qualify for this NCI advanced certification, you must first meet the following criteria:
Five years of air balancing experience
Agreement to maintain professional conduct and follow NCI procedural standards and industry best Testing, Adjusting, and Balancing (TAB) practices
Agreement to have access to test instruments meeting NCI guidelines
Committment to maintain current certificates of instrument calibration
Agreement to meet each project's specified instrument and calibration requirements.
Please follow the steps below:

Step 1: Purchase the training plus certification (order will be processed when approved).
Step 2: After purchase, you will receive a link to complete our online application for certification. 
Step 3: Complete and submit the application.
Step 4: If you qualify, NCI will inform you of your successful application, and will process your order at that time at the full $250*. If you do not qualify, you will not be able to attend day 5 and will only be charged $200*.
NCI certifications are valid for two years. Recertification is achieved with 16 hours of NCI continuing education
Advanced Air & Hydronics Balancing Program Overview
Welcome, course logistics and introduction
NCI certifications - history and requiprements
NCI air procedural standards
Estimating a balancing project
Commercial duct air leakage testing
Static pressure testing
Duct traverses.
Balancing system airflow
Fan laws
Fan and electrical testing
Fan curves
Fume hood testing
Life safety - smoke evacuation and stairwells.
Commercial kitchen balancing
Economizer and outside balancing
VAV balancing and reporting procedures
Air changes per hour
Temperature and system delivered Btu
Air balancing and diagnostic report review.
Hydronic systems overview
Pump selection and sizing
Pumps and pump curves
Pump laws
Measure hydronic flow
Balance hydronic flow
Air balancing certification exam and field testing (optional)
Hydronic balancing certification exam and field testing (optional)
Advanced Air & Hydronic Balancing Program Pricing
---
Advanced Air & Hydronic Balancing 4-Day Class
Nonmember Price: $1,495
SCE Contractor Price: $200*
Advanced Air & Hydronic Balancing 5-Day Class and Certification
Nonmember Price: $1,495 + $495 Certification Package
SCE Contractor Price: $250*
---
Certification Fees:
Advanced Air & Hydronics certification exam (on day 5): $495 SCE Contractor Price: $50*

NCI certifications are valid for two years. Advanced Air & Hydronic recertification is achieved with 16 hours of NCI continuing education.
Recertification:
Up to 32 NCI recertification hours are also available with this class for other "air-side" certifications – Call Customer Care at 800-633-7058 to enroll in recertification. CLICK HERE to view qualifying recertifications for this class.

Recertification Fees: With paid Advanced Air & Hydronics class and certification exam above: Add $95 per 8-hour qualifying recertification – maximum four recertifications.
Recertification Training Fees: Recertification only- 8-hours of Advanced Air & Hydronics training (training included - no certification exam): $425 per Recertification
Call 800-633-7058 for Recertification Options
*This special pricing is available exclusively to HVAC professionals who work in Southern California Edison's territory. Your final registration is subject to verification for discount eligibility
Upcoming Training Events:
---
Upcoming Training & Events
View Full Utility Training Schedule
.