Current ComfortMaxx Users Click Here
ComfortMaxx™ 4.0 Cloud-Based Software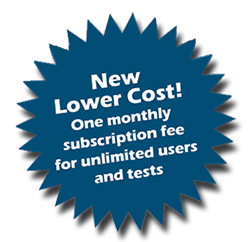 ComfortMaxx will help speed up and simplify your testing process, and helps hold your technicians accountable

As a result you will be able to generate high quality leads and wow your customers with professional and easy-to-understand reports about their comfort systems. This will help differentiate your company as a performance-based leader in your marketplace.
Close more sales
Create consumer-friendly visual reports
Improve testing accuracy
Eliminate math errors
Eliminate handwriting legibility issues
Easily access customer data, equipment inventoryand testing history
Two New ComfortMaxx Levels for Maximum Testing Flexibility
Click any of the levels below to find out more about each one.


Get Started with ComfortMaxx™ Today
Here's how to get started:
Request and complete an application/agreement to get things started
Make sure your technicians who collect and input data are currently NCI Certified in System Performance and/or Air Balancing
What qualifications are necessary for ComfortMaxx™?
There are two levels of ComfortMaxx users: Administrators and Technicians.

Administrators are authorized by company owners/general managers to manage the company's account and input testing data on behalf of field technicians.

Technicians must be NCI certified to input test data from their field tests. They can work with or without internet access while testing in the field. When testing off-line, they complete data collection forms and turn them into the appropriate administrator. Forms are available in either paper or fillable PDF documents.
ComfortMaxx™ Feature Comparisons
ComfortMaxx Program & Features
Air
$95/month*
Verify
$145/month*
Track customer information
(for single or multiple locations)
Multiple systems per location
Unlimited Users (must be NCI certified)
Unlimited residential or commercial locations
Unlimited tests per location
Full equipment inventory on each system set up
Tests virtually every type of split and packaged unit systems
Separate heating and cooling tests
Customer reports based on location type – residential or commercial
Full toll-free technical support
Multiple printable PDF contractor and customer reports
Static pressure and airflow testing
Temperature testing and delivered Btu diagnostic measurements
Test-in/Test-out measurements with comparison reports
Full room-by-room airflow and performance testing
*Add NCI Membership for just $5/month!
Upcoming Training & Events
View Training & Event Schedule
.