Commercial Air Balancing
Register for this training now!
This completely redesigned Commercial Air Balancing Certification course helps equip HVAC professionals with the knowledge and tools they need to balance commercial HVAC systems up to 25 tons, including Kitchen Exhaust and Make-Up Air systems.
Deliver High Quality Air Balancing Services and Professional Reports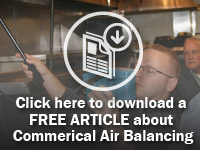 An increasing number of HVAC and energy professionals are discovering the importance of testing and balancing their installations. Many are also recognizing the opportunity to provide independent balancing services. Additionally more and more code officials, building departments and utility programs are requiring certified balancing reports for both new construction and replacement and renovation work.

This class is also ideal for facility management professionals and on-staff service techs who need to test and balance systems within their plants and commercial facilities.

NCI's completely updated 3-day program gives the HVAC professional a comprehensive education on the airside testing and adjusting processes needed to maximize air delivery and overall performance. We start with the basics of pressure, temperature and air flow testing and build up to more complex air balancing techniques.
Why NCI's Air Balancing Training is Different
Our Air Balancing training was created from the ground-up based on many years of actual field experience, practical NCI standards, and simplification of often complex engineering concepts and terminology. For example, this class will help you understand what fan laws do, how they work, and how using them to make pulley adjustments affects system balance. You'll also learn how to overcome the common obstacles you'll run into in the field while adjusting and balancing most commercial systems. By passing the exam on day three, you will earn NCI's exclusive Commercial Air Balancing Certification for systems up to 20 tons

NCI is the world leader in HVAC System Performance training and Air Balancing. We built the industry's best practices, processes and forms, and have been teaching them for nearly two decades!
Who should attend?
• HVAC Professionals
• Energy Raters
• Energy Improvement Contractors
• Builders
• Facility Managers & Technicians
• Engineers
• Property Managers
• NCI Certified Air Balancer
Commercial Air Balancing Program Overview
The Key Elements of Air Balancing
Commercial Air Balancing Overview
NCI Commercial Air Balance Specification
Estimating and Selling Balancing Work
Preparing for a Balancing Project
Static Pressure Testing
Static Pressure Profiles
Traversing Airflow
Electrical and RPM Testing
Balancing Principles, Techniques and Reporting
Fan Laws - Effects of Changes in Pulley Diameter, Static Pressure, Amp Draw and Horsepower
Measuring and Adjusting Register and Grille Airflow
Proportional Balancing
Temperature Testing and Final Testing
Publishing the Final Report
Review ComfortMaxx™ Software
Economizers and Kitchen Exhaust Systems
Economizer Fundamentals
Measure and Adjust Economizer Airflow
Kitchen Exhaust System Fundamentals
Kitchen Exhaust System Balancing and Reporting
Exercises with ComfortMaxx™ software
The day concludes with NCI's exclusive Commercial Air Balancing certification exam (optional)
Commercial Air Balancing Program Pricing
Commercial Air Balancing Program
Nonmember Price: $975 ($880 training +$95 certification)
SCE Contractor Price: $150*
*This special pricing is available exclusively to HVAC professionals who work in Southern California Edison's territory. Your final registration is subject to verification for discount eligibility
Upcoming Training Events:
Commercial Air Balancing Certification - SCE
---
Upcoming Training & Events
View Full Utility Training Schedule