Refrigerant-Side Performance
Register for this training now!
What if everything you thought you knew about diagnosing and solving refrigeration-side performance problems may not be totally correct?
Before you hook up a refrigerant gauge to a condensing unit, do you know for certain it's the right first step to solving the issue?
By tapping into the refrigerant-side and adjusting the charge before you establish the true causes of the problem, you may not solve it. In many cases, you might make things worse!
There is a better way!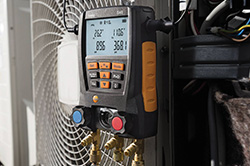 This National Comfort Institute two-day advanced residential certification class provides you with real-world lessons and hands-on training. It's based on proven techniques on how to best approach refrigeration-side issues.
Learn how to:
How to apply a performance-based, systematic approach to refrigeration-side diagnostics
Explore new HVAC refrigeration cycle performance-related solutions
Identify surgical system repairs to improve performance
How to use inspection, testing, and system history to determine if and when you need to tap into the refrigeration circuit
Address underlying issues that impact the system before adjusting the charge
Who should attend?
Residential and Commercial Technicians, Installers & Installation Managers, Service Managers
Refrigeration-Side Performance Overview
Introduction to refrigeration testing principles
How refrigeration system components affect performance
How static pressure and airflow measurements reveal hidden effects on the refrigeration cycle
High- and low-side of the system and how they affect performance
Metering devices, evaporators, service valves, filter dryers, and line set sizing
Hands-on testing throughout
The benefits of purging with nitrogen while brazing
Superheat, subcooling, and other refrigeration metrics
Proper use of NCI's Expanded Refrigerant Diagnostic Table
How to tell if non-condensables are in the system, and determine how they got there
Measure and interpret HVAC system static pressure to plot airflow
Hands-on testing throughout
The day concludes with NCI's exclusive Refrigerant-Side Performance certification exam (optional)
Refrigerant-Side Performance
SCE Contractor Price: $750 $100*
*This special pricing is available exclusively to HVAC professionals who work in Southern California Edison's territory. Your final registration is subject to verification for discount eligibility
Upcoming Training Events:
Refrigerant-Side Performance Certification Program - SCE
---