Commercial System Performance Online Live Certification Program
Register for this training now!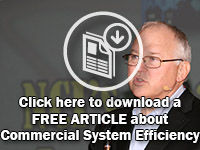 Find and repair commercial HVAC problems you never knew even existed!

Did you know NCI studies have shown the average commercial HVAC system only operates at 63% of rated capacity?

This NCI online live certification course is designed to help HVAC professionals correct this widespread problem. You'll learn how to test, diagnose problems, prepare a scope of work, and renovate commercial HVAC systems to perform the way they were intended.
Learn To Deliver Measured, Documented Performance!
This program will show you how to deliver true system performance. It also opens the door for greater opportunities for your company, including true differentiation, greater revenues, and higher profits to the bottom line.
Our practical field-based training will take you through how to measure, rate and improve the operating performance of the HVAC systems you design, sell, install, and service. First you'll learn how to assess the unseen properties of an HVAC system including airflow, temperature, pressure, and delivered Btus. With this new knowledge, you'll be able to find and repair problems you never even knew existed.
This online course features numerous hands-on demonstrations that include how to use the test instruments, proper testing locations, and live testing and interpretation of readings.
What you get:
16 hours of live online training over a 4-day period – typically 2 days a week.
A 225-page printed manual that allows you to follow the class and perform written exercises
A portable Field Reference Guide designed to help you perform field testing and diagnostics
Numerous downloadable materials including NCI's exclusive Fan and Duct Sizing Tables, Electrical Forms and Procedures, Field Design Tools, Static Pressure and Temperature Test Forms and Procedures, Fresh-Air Calculator, a Manufacturers Engineering Data Locator, and so much more – 31 downloads in all!
By completing this class, you qualify for NCI's Commercial System Performance Specialist certification exam
Qualify for 16 NCI Continuing Education Units (CEUs) for recertifying up to two existing NCI certifications (additional recertification fees apply).
Commercial System Performance Program Online Live Training Program Overview
This training consists of four, 4-hour classes over 4 days, typically over a 2-week period.
Introduction and Webinar Logistics
Commercial System Performance Overview
Static Pressure Testing
Static Pressure Diagnostics and Repairs
Determine and Plot Required Measure Equipment Airflow
Measure Equipment Airflow by Traverse
Testing with an Air Balancing Hood
Measure Grille and Register Airflow
Fan Laws and Variations
Temperature Testing
Temperature Diagnostics and Repairs
Equipment Btu Measurement and Calculations
System Btu Measurement and Calculations
Determine Current Rated System Capacity
How to score Installed System Performance
Course Review and Exam Preparation
Commercial System Performance Training Fees (Certification fees not included)
Training only - Nonmember Price: $655
Training only - Member Price: $622


NCI Members

Earn $31 NCI Bucks!


Learning Excellence Program Subscribers

Earn $93 NCI Bucks!
Commercial System Performance Specialist Certification Fees:
Certification exams are offered online through our secure, proctored website at $95 per exam.

NCI certifications are valid for two years. Recertification is achieved with 8 hours of NCI continuing education.
Recertification:
Up to 16 NCI Recertification hours are also available with this class – Call Customer Care at 800-633-7058 to enroll in Recertification. CLICK HERE to view qualifying Recertifications for this class.

Recertification Fees: With paid Commercial System Performance class and certification exam above: Add $95 per 8-hour qualifying recertification – maximum two recertifications.
Recertification Training Fees: Recertification only- 8-hours over two days of Commercial System Performance training (training included - no certification exam): $465 per Recertification
Continuing Education Credit
This class qualifies for Continuing Education Units (CEUs) for NATE and BPI recertification, and for licensing CEUs in several states. CLICK HERE To learn more.
Upcoming Training Events:
Commercial System Performance Online Live Training Program
---
Upcoming Training & Events
View Training & Event Schedule
.