Test & Certify Ventilation Systems and Economizers Online Live Certification Program
Register for this training now!
Learn to effectively test, diagnose, and sell economizer and ventilation improvements - and comply with the latest industry standards
More than 50% of economizers in the field are either non-functioning, disabled, installed improperly, or have never been plugged in! In this 16-hour course, you'll learn to apply practical field techniques and procedures to set up economizers, test functionality, troubleshoot, diagnose and repair malfunctioning units.
Learn about the latest ventilation standards and how to make sure that your systems meet or exceed these important standards. Your work will help ensure code compliance, improve indoor air quality, and help safeguard building occupants from airborne viruses and contaminants.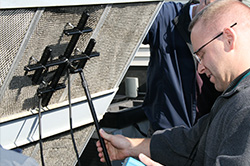 Looking to understand the in's and out's of economizer performance? Wondering how you can enter this field, or to brush up on your skills? This course will open doors to new customers and keep current customers satisfied. This advanced training will help you understand how to improve economizer performance and remedy deficiencies. Includes hours of hands-on testing, diagnosing, repairing, and commissioning operating economizers.
Economizers are key to maintaining a buildings energy-efficiency, and improving their performance will result in proven increases in efficiency and comfort.
You will also learn how to:
Perform advanced airflow and temparature measurements to calculate economizer Btus
Determine economizer impacts on energy efficiency
Use and apply basic ventilation standards and applications in the field
Test, diagnose, and prescribe solutions to typical economizer and system ventilation issues
Document knowledge increase of current standards and codes applications in the field
Commission a basic economizer and controller
Publish certified economizer and ventilation reports
And much more...
Who should attend?
Owners, Managers, HVAC Balancing Professionals, Service Technicians, Installers, Facility Management Personnel
Prerequisites
You must have previously attended NCI's Commercial System Performance or Commercial Air Balancing training.
Improve Economizer Performance & Meet Today's Ventilation Standards - Program Overview:
Introduction, Webinar Logistics & Course Preview
What's driving building owners to upgrade economizers?
Ventilation and Air Change Calculations
Test Instruments and Report Forms –

with hands-on demo
Measure Fan Airflow –

with hands-on demo

Diagnose and Resolve Fan Airflow Issues –

with hands-on demo

Variable Speed Fan Controls –

with hands-on demo

Measure Economizer Airflow –

with hands-on demo
Measure Economizer Airflow–

with hands-on demo

Diagnose and Resolve Economizer Airflow Issues –

with hands-on demo

Test, Diagnose and Resolve Building and Room Airflow and Pressure Defects
Build a ventilation scope of work
How to Set up an Economizer Controller –

with hands-on demo

Commission Ventilation Systems –

with hands-on demo

Create certified ventilation system reports
Course review and Exam Prep
Test & Certify Ventilation Systems and Economizers Online Live Training Fees (Certification fees not included)
Training only - Nonmember Price: $595
Training only - Member Price: $565
NCI Members

Earn $28 NCI Bucks!


Learning Excellence Program Subscribers

Earn $85 NCI Bucks!
NCI Certified Economizer and Ventilation Specialist Certification Fees:
Certification exams are offered online through our secure, proctored website: $95 per exam

NCI certifications are valid for two years. Recertification is achieved with 8 hours of NCI continuing education.
Recertification:
Up to 16 NCI Recertification hours are also available with this class – Call Customer Care at 800-633-7058 to enroll in Recertification. CLICK HERE to view qualifying Recertifications for this class.

Recertification Fees: With paid Test & Certify Ventilation Systems and Economizers Online Live class and certification exam above: Add $95 per 8-hour qualifying recertification – maximum two recertifications.
Recertification Training Fees: Recertification only- 8-hours over two days of Test & Certify Ventilation Systems and Economizer training (training included - no certification exam): $425 per Recertification
Continuing Education Credit
This class qualifies for Continuing Education Units (CEUs) for NATE and BPI recertification, and for licensing CEUs in several states. CLICK HERE To learn more.
Upcoming Training Events:
---
Upcoming Training & Events
View Training & Event Schedule
.